Absentee and Satellite Voting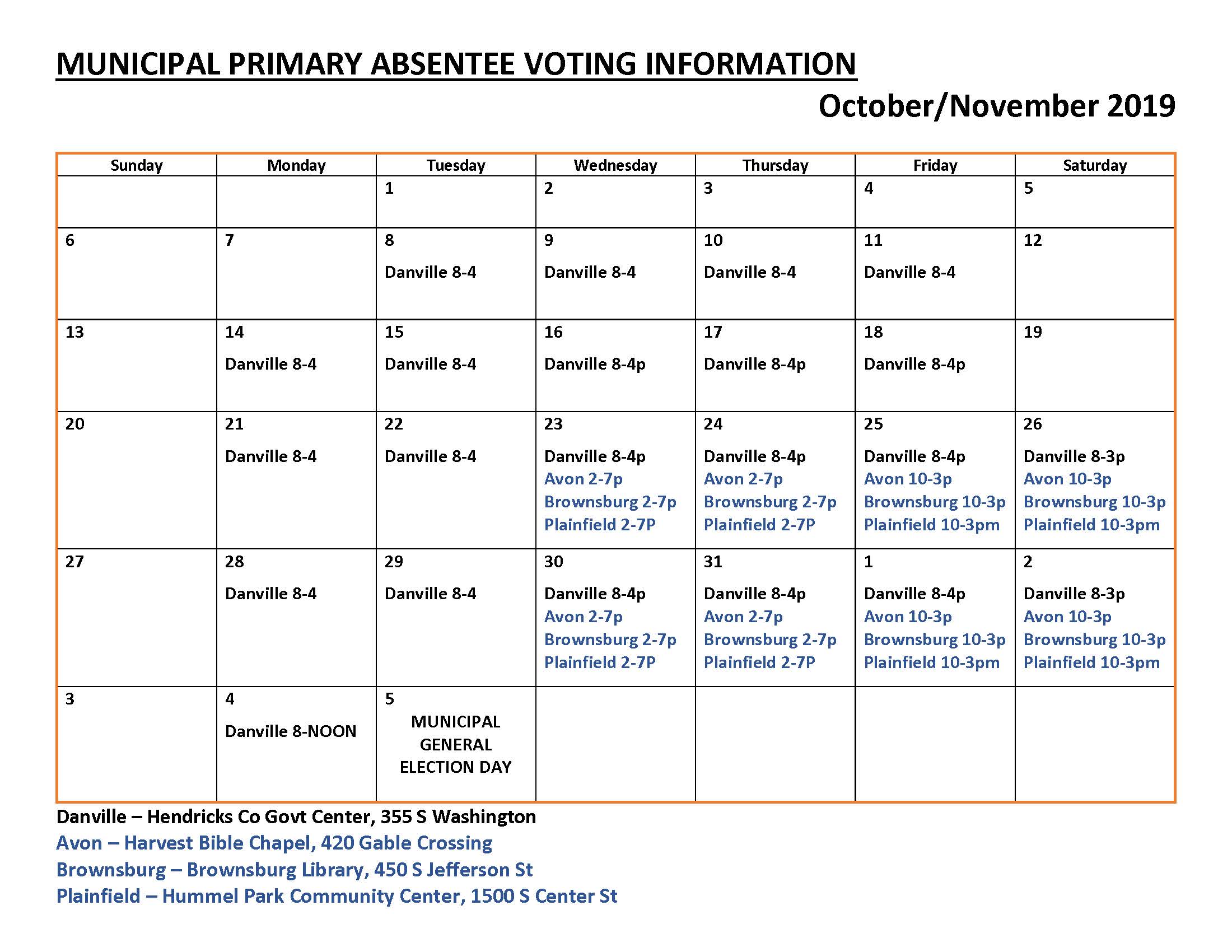 Absentee Voting by Mail
Contact us at 317-745-9453 for more information
Who is Eligible to Vote Absentee by mail?
You may vote absentee by mail if you:
Will be out of the county on election day
Are a voter with disabilities
Are a voter at least 65 years of age
Are an absent uniformed services voter or an overseas voter
Expect to have official election duties outside of your voting precinct
Are scheduled to work at your place of employment during the entire 12 hours that the polls are open
Are confined, or expect to be confined, due to illness or injury
Expect to be caring for a confined person at a private residence
Where and How can I Vote Absentee?
Eligible absentee voters may cast their ballot:
*In Person - "No Excuse Required"
Beginning 29 days before the election at the office of Hendricks County Voter Registration, before a bi-partisan board. Hours are Monday through Friday from 8am to 4pm. The two Saturdays before the election you may vote between 8am and 3pm. Voting in person ends at NOON the day before the election. No appointment is necessary. We are located in the Hendricks County Government Center, 355 S Washington St, Danville. Our office is on the first floor on the north side of the building.
*BY MAIL
Before an absentee ballot can be mailed, we must have a signed absentee ballot application from the voter. Your signed application must reach our office 5 days before the election or we cannot legally send you a ballot. Ballots WILL NOT be "handed out", all ballots must be mailed. When we receive your request for an application, we will mail it to you. You will have to return it, signed, before we can send you a ballot, which you will have to return. These four mailings will take time. If you can vote in person, you should try to do so, especially for college students who may be home on either of the Saturdays we are open.
*Travel Board
A bi-partisan absentee board will bring ballots to voters that are confined, due to illness or injury, or any voter with disabilities whose voting place is not accessible to them. An absentee ballot application must be signed and returned before the board can bring the ballot. Please contact our office at 317-745-9249 so we can assist you in making travel board arrangements.
I am Eligible and Want an Application!
Please call our office at 317-745-9453 and we will
send you an application